Epoxy Basement Flooring - Limited Time Offer Hurry up!
CLEARANCE SALE UPTO 40%  |  LIMITED TIME OFFER  |  HURRY UP!
Businesses and factories are now choosing 2 pack EPOXY basement floors over their old, untreated concrete floors or concrete floors that had been painted or sealed. The main reasons are how easy it is to clean, how safe it is, how clean it is, how well it keeps out water, and how it looks. In many warehouses, quality control is based on how clean the warehouse is. Concrete dust can make it almost impossible to meet these standards because concrete dust is very bad for your health. 
You can fix up your old floors and then coat them with premium industrial-grade 2-pack epoxy to make them dust- and oil-proof, which makes cleaning them a breeze. Our Basement Floor Coatings are resistant to spills of acids and alkalis and forklift and foot traffic. Your floors can have a semi-gloss, high-gloss, or non-slip finish and come in 356 different colors to match your new floors to the rest of the room. Epoxy can take a lot of wear and tear in the modern world. It won't slip, which makes it great for business and retail jobs.
Prepare A Concrete Floor
We will find the best ways to meet your floor coating needs. We will always talk to you about all your options. Surface preparation is important for installing a floor system. We use the industry's most advanced line of food preparation equipment and are always training to learn about the newest and best products and methods in the Dubai market. Our tradespeople know how to use captive shot-blasting, scarification, concrete diamond grinding and polishing, floor topping removal, and the professional application of 2-pack epoxy.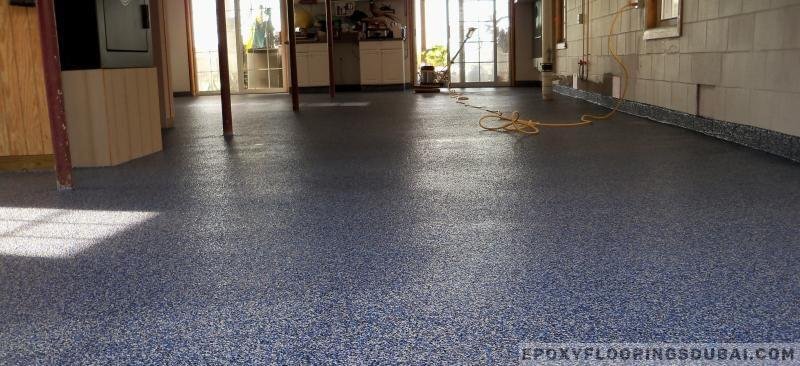 Pros Of Epoxy
Basement Flooring
Seamlessly durable and USDA compliant

A system resistant to chemicals, UV light, and heat makes it 3X better for health.

Available in both liquid and solid forms.

Low to Zero VOC

A surface that always looks nice and is easy to clean and maintain.

It has a polished sparkle finish with bright colors or rich designs.

It is made to be safe on purpose for jobs in assembly, mechanics, and distribution centers.

Different colors can be used to make work zones, paths, isolated areas, and more.

It lessens the wear and tear on vehicles, letting them work faster and better.
Epoxy Floorings Dubai – The Best Supplier Of Epoxy Basement Flooring 
We have become the top service provider in Dubai's Flooring & Coating solutions. We ensure our clients get the high-quality, custom services they need by ensuring qualified industry professionals handle them. Our years of industry experience and our track record of success with well-known clients mean that we can provide competent solutions for all Industrial and Domestic Basement Flooring and Coating Services. 
When you choose Epoxy Floorings Dubai, you work with a professional company. It means you'll get good customer service. We have to make sure that every customer is delighted. We use a mixture of resin and hardener that, when brought together artificially, forms a material that is not flexible. As a professional basement flooring company in Dubai, we recommend Epoxy flooring as a coating over porous floors, resistant to shock and safe from bad smells.